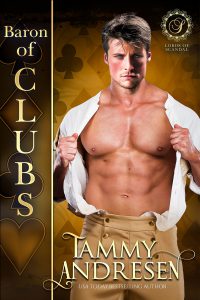 Baron of Clubs
Lords of Scandal 16
TMysterious and larger than life, this baron might not have been the best choice for elopement…
Lady Elizabeth Stanton needed to wed quickly in order to save her brother but running away with a rakehell of a baron…. Cryptically quiet, the Baron of Clubs is the definition of the strong and silent sort of fellow. As frightening as he is handsome, he steals her breath with every penetrating glance from his hazel gaze.

Vacancy: Viscount Preferred
Calling All Rakes 4
Lady Priscilla is in trouble…
When a cousin she didn't even know existed inherits her father's title, the new Earl of Purlington wants more than just the earldom, he want's Priscilla too. Or at least, her dowry. What she needs is a hero. A man to swoop in and save her despite her cousin's intimidating lurking. Well not an actual hero, not like the one currently being featured in the papers for all his heroic deeds, but perhaps a man willing to stand up to her cousin and marry her despite the odd circumstances. But how does she find a man like that?
The Viscount of Ware stalks the night…
Subscribe to my Newsletter!