Earl of Infamy
Lords of Scandal 14
He's been given a mission…
The Earl of Infamy must escort one mourning lady out of London and hide her away in the country. Should be easy. But from the moment he steps into her life things get…complicated. Not only is she far too pretty for his liking but she's got a knack for telling him no.
"No, I don't want to go to the country with you."
"No, I won't share your room."
"No, I won't marry you, I don't care that we've been alone."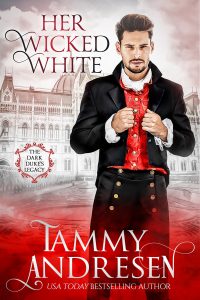 Her Wicked White
Dark Duke's Legacy Book 1
Meet the White family…
Benedict White is the new Duke of Whitehaven but he's inherited a whole set of old problems right along with his dukedom.
Warring siblings.
A mysterious clause within his father's will.
And swirling questions about his father's death.
He's a man who lives his life alone. How can he untangle himself from this mess? Still, he'll do what's best for the dukedom no matter how much he hates the task. And when he meets his sister's companion, Miss Chloe Fairly, he can't deny that he's tempted…
Subscribe to my Newsletter!