Duke of Decadence
Lords of Scandal 9
The Duke of Decadence has a secret…
Well, to be honest, Bash has several. His father, the Demon Duke, might have been the cruelest man in all of England. Bash hates his own title, the very one he inherited and all the trappings that come with it. And most secret of all, he hopes never to marry and carry on that family legacy. Which is downright scandalous for a duke to even think.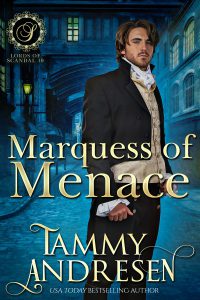 Marquess of Menace
Lords of Scandal 10
He's a rake beyond redemption…
The Marquess of Milton was the sort of handsome that made women swoon at his feet. Which suited him just fine. Of course, no mother would allow him near her daughter, which worked even better. Who wanted to tangle with a woman he might have to marry? But when his path crosses with Miss Eliza Carrington, a woman who is both strikingly beautiful and as fiery as they come, he knows he has to have her. And when he realizes there is no marriage minded mama to contend with… it's time to be wicked.
Subscribe to my Newsletter!